The Ultimate M1 Finance Starter Guide
Introduction - My Background
I created my first portfolio on M1 Finance Dec 18, 2017. About a year after creating that portfolio and continually building up my investments I decided to catalog my journey through my YouTube channel. Since then the channel has grown to over forty thousand subscribers who tune in regularly to see updates on my portfolio and commentary on current events.

As the image above shows, the performance of my portfolio has been decent so far. The portfolio has kept up with the SP500 while having lower volatility and a higher sharp ratio (that's a good thing). Below is an image of my portfolio performance compared to the SP500 (blue is mine, red is the SP500).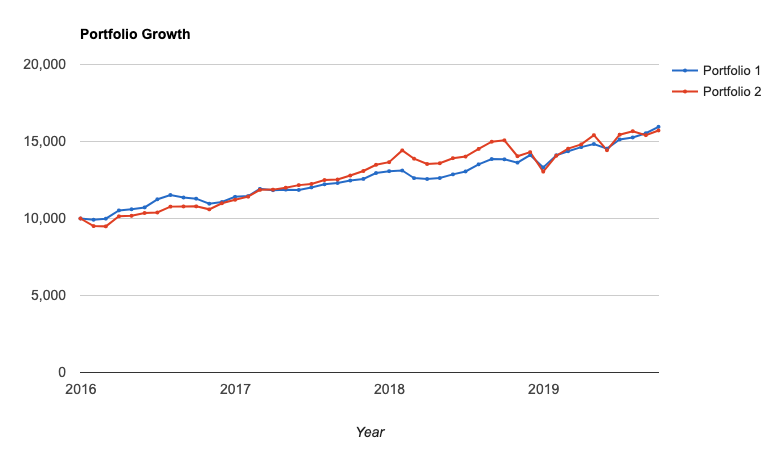 The Strategy
My investment strategy is to purchase what I consider high quality companies with large moats that pay shareholders consistently with increasing dividends. This conservative approach and focus on solid high cash flow companies with stable and increasing dividends is a key factor to my investment strategy. Another factor is the way that i'm able to organize my portfolio.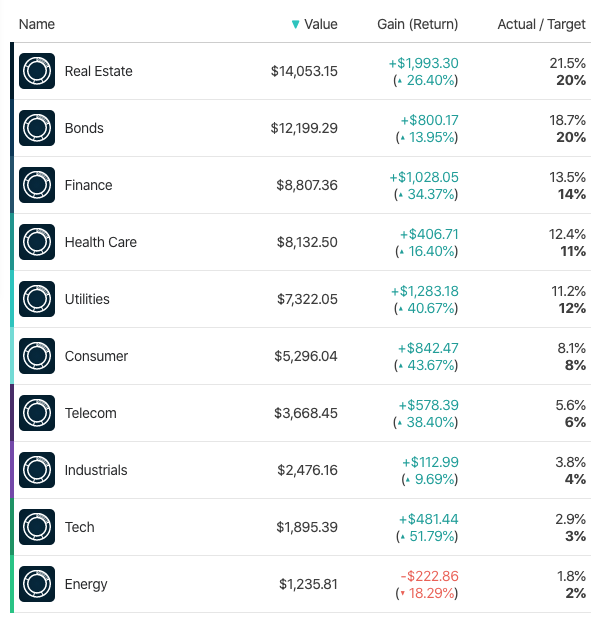 As many have noticed, my portfolio is organized in a unique way. Outside of M1 Finance, it's nearly impossible to organize a portfolio in this manner. The screenshot above shows a bunch of "pies". Each one of those pies have a target percentage (off to the right of the image). I broke these out into each sector and I specified the allocation I want into each sector. Then, if I click into one of those pies I can do the same for the holdings I have within those sectors, as pictured below.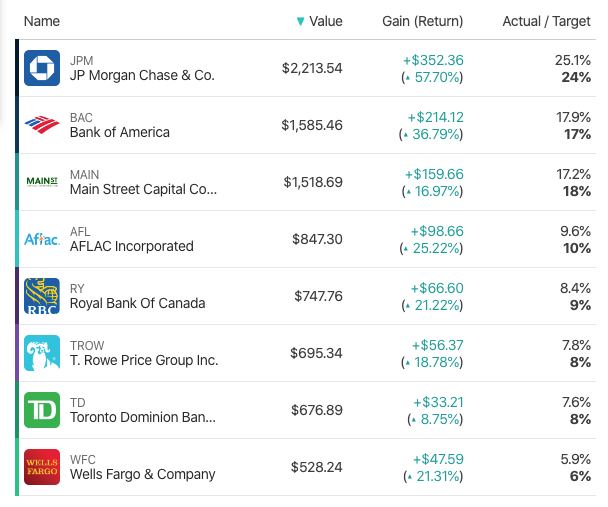 The ability to organize a portfolio in this manner allows for you and I to do something we historically have not been able to do. we can in all practicality build our own ETF. We can assign a percentage we want to every holding, and every sector, and deposit money and M1's unique system will intelligently direct money into the underweight holdings to maintain our target allocation. This allows for a type of control over your investments that has not been previously possible. For instance, lets compare it to how a typical Schwab portfolio would look.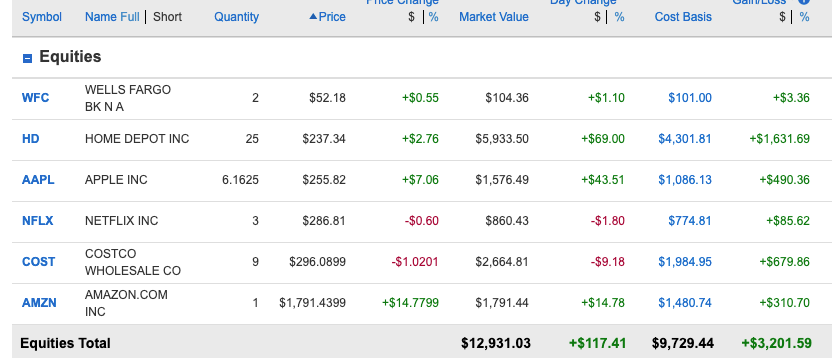 The image above is taken from a real Schwab portfolio. As you can see it has different limitations. You can't assign percentages to any holdings and have money automatically allocated to them, you can't organize holdings into different pies and group them together. Wells Fargo, a bank, is right there next to Home Depot. And Below that is Apple.
This is the way the huge majority of brokers are. They give you a linear list of your holdings with the basic information of how many shares you own and the total value of the position. With M1, by creating your own index, you make managing a lot of holdings (like the 52 I have) far simpler and keeping allocation a breeze.
Starting Your Portfolio
Starting your journey is simple. First, visit click here to visit M1 Finance and open an account. In the setup process M1 will ask for your basic personal information so that they can create your brokerage account. Once your account is created the fun part starts: constructing your portfolio.
If you want to organize your portfolio similar to mine with each separate sector broken into separate pies, an easy way to accomplish this is by clicking on this link and hitting that "invest in this pie" or "save to my account". This allows you to copy the way my portfolio is constructed directly into your account. From there, you will be able to add or remove any holdings and make any adjustments you want. Keep in mind, if I make changes to my portfolio it in no way effects yours.
Another way to build your portfolio, if you are more hands on. Is by using the "research" tab, then the "my pies" tab. This will bring you to a screen where you create new individual pies, add any companies to them as slices, and save them. Then when editing your main portfolio you can not only add individual holdings to it, you can add entire pies you have created to it. This is how I originally created this portfolio.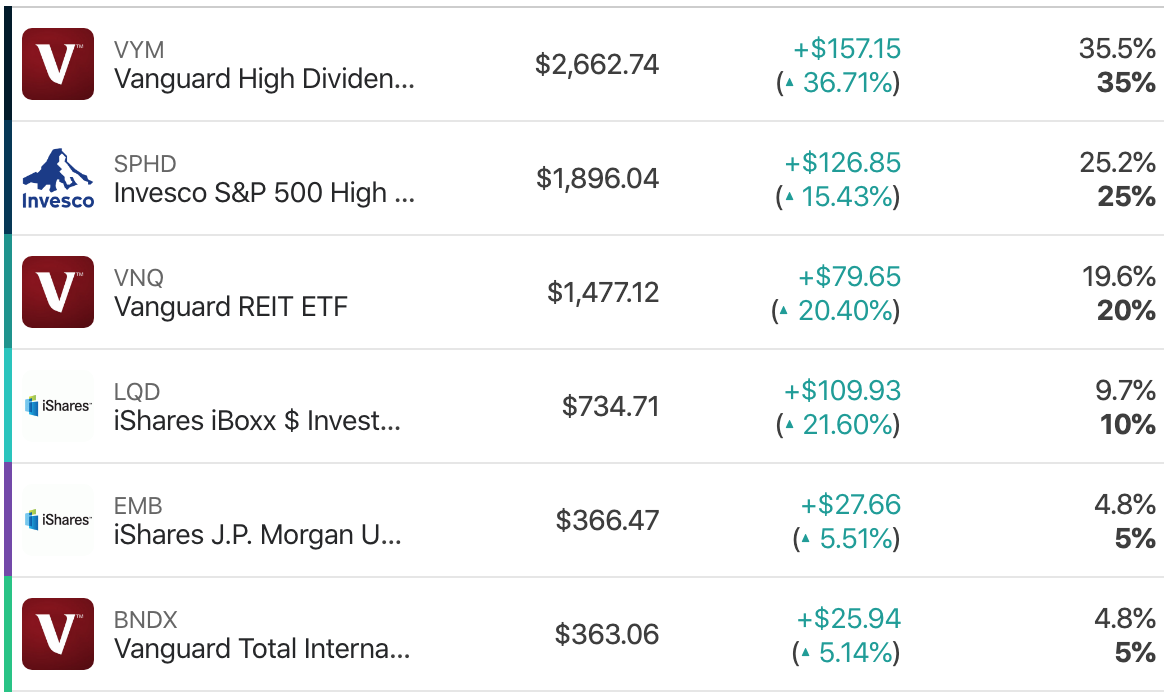 Now, if you're not wanting to invest in individual companies, and you want to keep things simpler, there's always the option of investing using ETF's. The image above is my Roth IRA. Using a few ETF's you can have a diversified portfolio that never requires any maintenance from you. This is a hands off approach to investing and easy to set up. If you want to see the holdings I use, just click on this link.
Either strategy you choose, you will be able to enjoy the portfolio allocation feature that M1 offers and automatic deposits.